Arieto (Harry) Bertoia was born in San Lorenzo, Friuli, Italy, on March 10, 1915. In 1930 he emigrated with his father to America. Thanks to a scholarship he was admitted to Cass Technical High School in Detroit, where he graduated in 1936. During the same time he also attended the lectures of the Detroit Society of Arts and Crafts. In 1937 he joined the Cranbrook Academy of Art in Bloomfield Hills, Mich., a cradle of talents at the time, Eli Saarinen and Charles Eames to name some.
In Cranbrook he obtained the professorship in the Department of Metals and the direction of the printing workshop (1942). On May 10, 1943 he marries Brigitta Valentiner, daughter of Wilhelm Reinhold Valentiner, art historian and director of the Detroit Museum. Between 1943 and 1946, he worked with Charles Eames in California. In 1950 he was called by Knoll in Pennsylvania to create a new line of furniture: the "Bertoia Collection", produced in 1952, proved to be an outstanding success that continues today. In the spring of 1957 Harry Bertoia returned to Italy for a short trip. In 1960 he started to work at the sounding sculptures. Between 1968 and 1969 he created a recording studio in the barn on his Barto estate: with the help of his brother, a keen musician, he recorded the sounds he played with his sculptures on 11 LP albums published in 1972. Harry Bertoia died in Barto, Pennsylvania, on November 6, 1978.
ARTISTIC INTERESTS
Be it monotype prints, jewelry design, wire mesh chairs, static or sound sculptures, the exceptional talent of Harry Bertoia developed through continuous exploration of various artistic fields and multifold experiences with forty years of American art. The extraordinary manual skills and mastery of the materials were the result of an intensive and continuous research, and have have contributed to the creation of an oeuvre of rare beauty, fascinating and original. Fundamental characteristic of his research was the attention paid to the possibilities offered by the various materials which he used, including those related to the movement in space and sound.
MONOPRINTS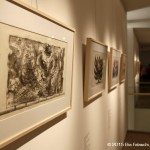 Harry Bertoia started making monoprints when in Cranbrook, developing a very personal method, and continued doing so all along his life. As a matter of fact monotypes were often for him a way to explore and put down on paper the original idea behind a new object or sculpture.
CHAIRS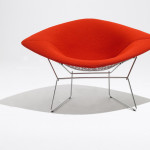 In 1950, Knoll gave Bertoia the possibility to develop his artistic concepts in full freedom. Out of this challenge emerged a range of chairs and other furniture "mostly made of air" as Bertoia described them. The Knoll collection of "wire chairs" was to immediately become an icon of mid-century design, which is still in production to this day.
SCULPTURE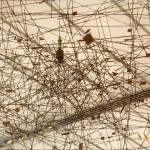 After working with the Eames in California (1947), Bertoia began to think almost entirely to metal sculpture. His extensive sculptural work can be classified into distinct types according to shape or construction technique: sculpture & platform (simple assembly of rods and other small geometric elements of a flat base) dating back to the forties; welded screens of the first commissions of the early fifties; wire and clouds; clouds of steel; phytomorphic fountains; dandelions; melt-coated wire; spill castings, metal deposits; bundled wire sound sculptures.
SONAMBIENT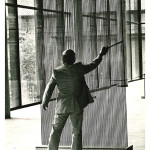 In 1959 Harry Bertoia struck by chance two metal rods and was captivated by the sound they gave. "When I was young, I lived in a small town in Italy … one day there was great excitement in the air … and someone told me that a bishop from China was coming to visit us … All the bells of neighbouring churches rang in celebration. I think that my work with the sound may be an attempt to recreate the magic of that moment, but of course, is much more ". Since 1969, year of the restoration of his barn in Barto, Harry worked constantly, with the help of his brother, to play and make recordings of his more than hundred "tonal" sculptures. What from the outside looked like a normal barn, and smelled of hay, was inside a musical instrument. Instead of racks for hay, there were rows of metal rods arranged in groups on the wooden floor. In 1970, in this fascinating environment, which has remained intact to this day, eleven LP albums were recorded under the label Sonambient ™.