We are the Amici di Harry Bertoia (Friends of Harry Bertoia) and we are located in San Lorenzo, Friuli, Italy, the village where Arieto (Harry) Bertoia was born in 1915. For several years our team has been promoting and organizing events in San Lorenzo to study the work and further the memory of Harry Bertoia.
During these years we have searched, collected and catalogued documents regarding Harry and his works and cultivated contacts with researchers and appreciators of his oeuvre.
The results of our work are now being made available to students and researchers through our Digital Library
We are also working to prepare a visual and audio catalogue of tonal sculptures, a Virtual Barn, which we hope will grow larger also through cooperation via the web with the owners of the sculptures.
• 1987 | Arieto Bertoia Scultore 1915-1978.
Retrospective Photo Exhibition, Pro Loco San Lorenzo, 6-10 August
• 2008 | Tra Ferro e Aria
Documental Exhibition, curated by Angelo Bertani, Pro Loco San Lorenzo, 25 July-28 September, Harry Bertoia's Birthplace
• 2009 | Harry Bertoia Unfolding: dentro e intorno alla musica di Harry Bertoia
Sound and Visual Explorations, presented by Francesco Costa, 20 June, Harry Bertoia's Birthplace
• 2009 | Decisi che una sedia non poteva bastare. Extraordinary opening of the birthplace on the occasion of the exhibition. Lesta, Val and Celia Bertoia guests to San Lorenzo.
• 2010 | Harry Bertoia & Tenori-On
From Harry Bertoia's Sonambient inspirations for new sound and aestetical dimensions for the Tenori-On, musical performance by Francesco Costa, 17 July, Harry Bertoia's Birthplace
• 2011 | Harry Bertoia's Sculptures
Presentation and showing of Clifford West's documentary, 15 July, Harry Bertoia's Birthplace
• 2012 | Metal Dimensions, Harry Bertoia
Presentation and showing of Madeline Tourtelot's documentary (1958), 6 July, Harry Bertoia's Birthplace
• 2013 | Friulian Childhood. Performance by Stefano e Pietro Jus. Preview Celia's book "The Life and Work of Harry Bertoia".
• 2014 | Tell me more about Harry Bertoia. Video interviews to Klaus Ihlenfeld, Richard Schultz and Richard Wright.
• 2015 | From Nature to Sign Harry Bertoia 1915 – 2015. Exhibition in Pordenone, Harry Bertoia Gallery and San Lorenzo, Harry Bertoia's Birthplace
CONTACTS
AMICI DI HARRY BERTOIA
Via Casarsa 1/a – San Lorenzo 33098 Valvasone Arzene (PN) Italia
info@arietobertoia.com Mobile +39 339 26 84 389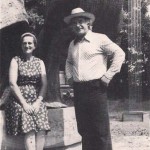 We are very grateful to Harry Bertoia's sister, Ave Bertoia (30 July 1920 – 24 July 2012), for her passionate support to our project!